HealthTrends.AI, a trustworthy source for health care data and analytics, is excited to announce that we will be bringing state-certified COVID-19 data onto a variety of blockchains through the Chainlink Network. By launching our own official Chainlink oracle node, we can broadcast state certified, authoritative COVID-19 data from our Coronavirus API on to many of the leading blockchain platforms like Ethereum, empowering a wide range of new smart contract applications to emerge for Life, P&C, and Health insurance, automatic rebalancing of supply chains, asset management and financial risk tools, and more. This serves as a perfect example of how traditional data providers can use oracles to interoperate synergistically with blockchain-based systems to create real-world value, as outlined in the recent World Economic Forum report: Bridging the Governance Gap: Interoperability for blockchain and legacy systems.
In addition to bridging our COVID-19 data on-chain, our Chainlink node will cryptographically sign that data so all applications relying on it know that it is valid and came direct from our API without tampering. This will provide first responders, supply chain managers, financial entities, and insurance companies a secure way to build automated data-driven business processes that are able to dynamically react to changes in Covid-related health cases, as well as other health data-related scenarios in the future.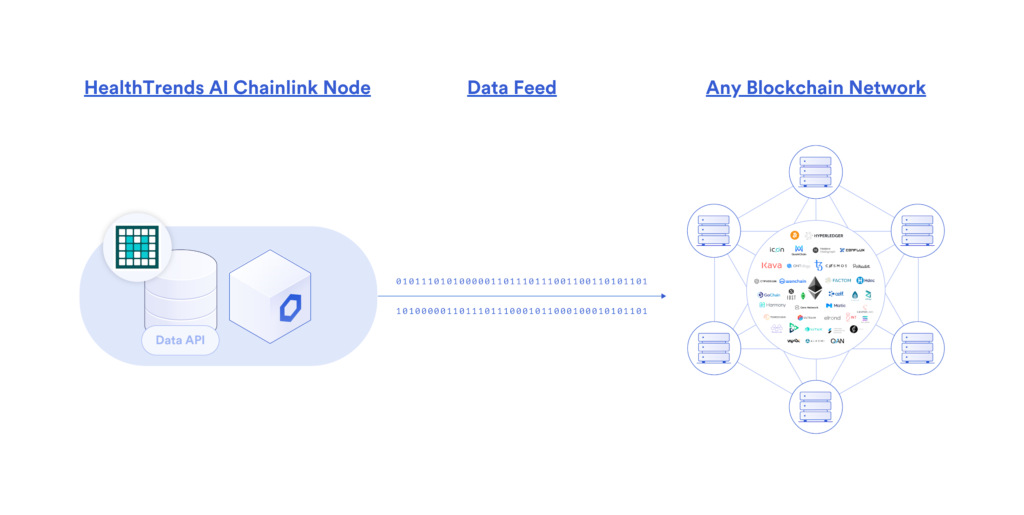 HealthTrend.AI's mission is to help organizations turn public health data into actionable information. Hence, why we only use legally verified public health data, as it is both legally compliant and reliable enough to execute critical business processes. While many government and NGO sources provide public health data, the COVID-19 pandemic has revealed that many legacy data outlets do not have the capabilities to source and disseminate public health data at scale or in a manner that's reliable enough to trigger the exchange of real economic value.
Our Coronavirus API provides a record of official data from US government websites for the 50 states and DC. All data provided are the officially reported numbers via direct daily crawls of state government websites. Unlike other coronavirus data sites, we do not rely on news or human crowd-sourced data. Our COVID-19 data can be categorized based on a variety of different parameters such as positive cases, deaths, population, and more. The data captured will then be certified on the blockchain using our Chainlink node to transfer it on-chain and cryptographically sign it.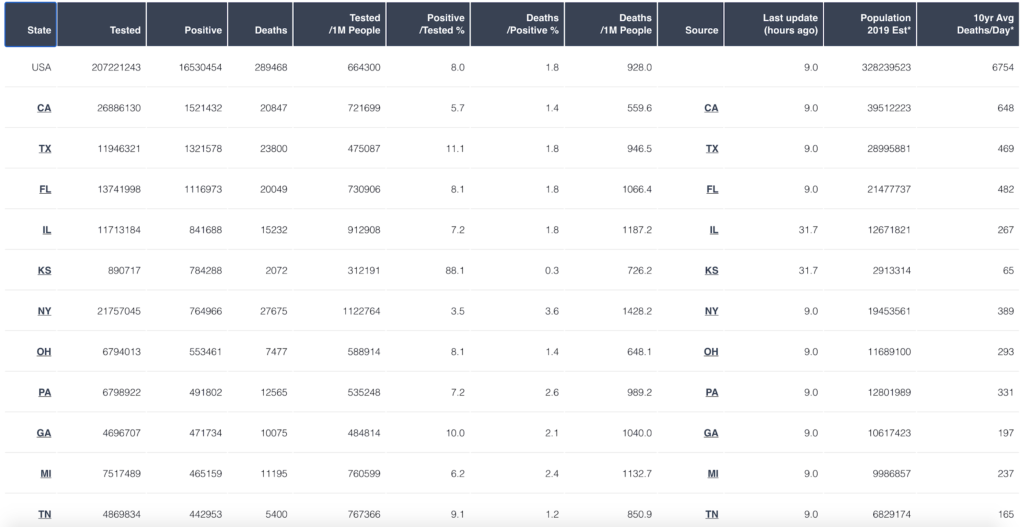 Blockchain-based smart contracts offer new infrastructure to automate multi-party business processes in a highly secure and reliable manner. However, smart contracts cannot natively make API calls to external systems. Thus, we need to make use of a blockchain oracle to make our off-chain APIs available on the blockchain (on-chain). Oracles are middleware that retrieve external data on behalf of a smart contract, attest to its accuracy (through digital signatures), aggregate it (when using multiple sources/nodes), and broadcast it onto the blockchain so smart contracts can use the data in their execution.
As the most widely used oracle solution in the market, and a project that is as meticulous as we are about the importance of quality data, the Chainlink Network is the best opportunity to offer our data to the smart contract economy. Some of the key features available to us as a node on the Chainlink Network include:
Data Signing – Chainlink nodes use a private key to cryptographically sign every piece of data they post on-chain, allowing us to provide smart contract applications clear proof that the data originated from our API.
Blockchain Agnostic – Chainlink nodes can integrate with any blockchain, providing us with a single framework to sell our data across all blockchains now and in the future.
Large Addressable Market – The Chainlink Network is the most widely used oracle solution, presenting us with a large and growing market of potential users.
Time-Tested Infrastructure – Chainlink is thoroughly audited open-source software that secures billions of dollars in value for live blockchain applications, proving its security and reliability as an oracle technology.
We are excited to join healthcare organizations working to fight COVID-19 by giving them access to high quality data on blockchains so they can build automated data-driven business processes. Beyond COVID-19, we look forward to innovating upon our offerings by making a wide variety of other health data available on blockchains in the future via Chainlink.
"COVID-19 is a stress-test on every aspect of our healthcare system, including our ability to source and disseminate high-quality data needed to make hard decisions," said HealthTrends.AI CEO and Co-Founder Susan Joseph. "HealthTrends.AI is upgrading the data layer of public health, and by launching a Chainlink node, we're expanding our reach to the growing field of smart contract applications. Soon, decentralized healthcare apps around the world will have access to high-quality, legally compliant, and cryptographically signed COVID-19 data, empowering developers to re-architect how we build healthcare infrastructure in the modern world."
About Chainlink
Chainlink is the most widely used and secure way to power universal smart contracts. With Chainlink, developers can connect any blockchain with high-quality data sources from other blockchains as well as real-world data. Managed by a global, decentralized community of hundreds of thousands of people, Chainlink is introducing a fairer model for contracts. Its network currently secures billions of dollars in value for smart contracts across the decentralized finance (DeFi), insurance and gaming ecosystems, among others.
Chainlink is trusted by hundreds of organizations to deliver definitive truth via secure, reliable data feeds. To learn more, visit chain.link, subscribe to the Chainlink newsletter, and follow @chainlink on Twitter.
Docs | Discord | Reddit | YouTube | Telegram | Events | GitHub | Price Feeds | DeFi | VRF
About HealthTrends.AI
HealthTrends.AI is a trusted third party delivering ongoing authoritative health information that is independently auditable. Our mission is to help organizations turn health data into actionable information. We created coronavirusapi.com (launched 3/8/2020) as a free tool to support first responders who use data to confirm trends, assess risk for non-compliance, and create predictions to help manage their populations. We are currently developing commercial products to help organizations act upon authoritative data with the unparalleled reliability of our solutions.
HealthTrends.AI is a trusted data source that spans legacy and cutting edge technology solutions allowing innovative organizations to access both. To learn more, visit HealthTrends.AI, subscribe to the HealthTrends.AI newsletter, find us on LinkedIn and follow @AIHealthTrends on Twitter.